Annual Report to the Nation's Part II highlights trends in prostate cancer rates of deaths and new cases (incidence) in relation to changes in prostate-specific antigen (PSA) screening rates. Scroll down for information on trends and disease characteristics.
Prostate Cancer Deaths
Enlarge Image
Estimated number of prostate cancer deaths in 2018: 29,430*
Prostate cancer is the 6th leading cause of cancer death in the US.
Other factors may contribute to mortality flattening beyond changes in incidence rates.
New Prostate Cancer Cases and Disease Characteristics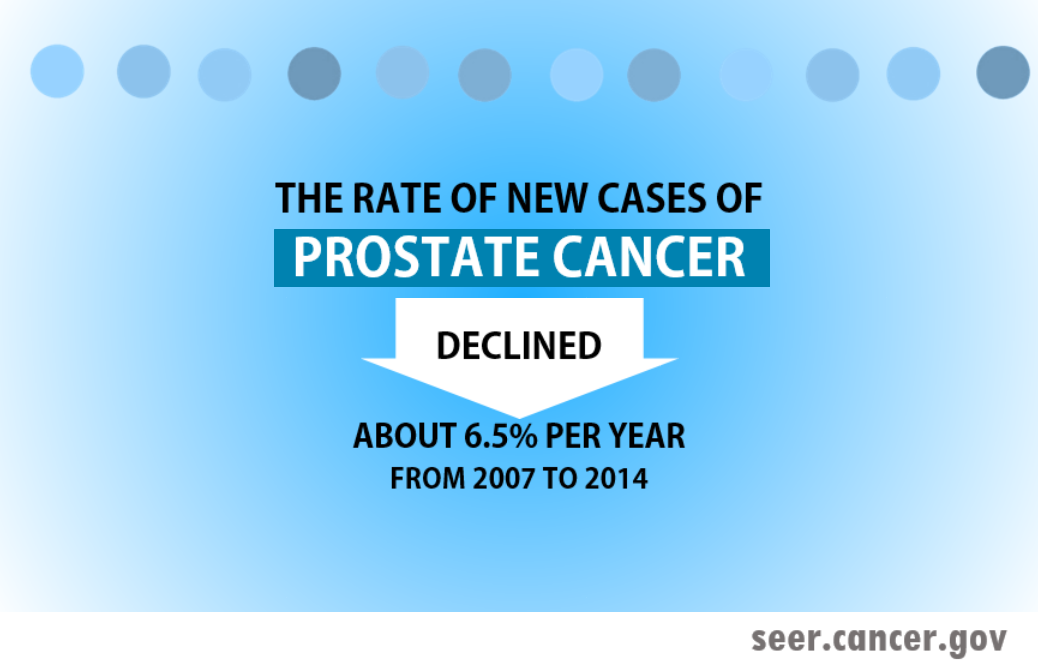 Enlarge Image
Estimated number of new prostate cancer cases in 2018: 164,690*
Prostate cancer is the 3rd most common cancer in the US, after breast and lung/bronchus cancers.
Despite the overall decline, incidence of distant-stage prostate cancer increased from 2010-2014. Newly diagnosed patients were less likely to present with low-risk localized disease. However, there was no increase in the rate of new cases for patients with other high-risk characteristics, such as high PSA, high Gleason score, or extraprostatic extension.
Prostate Cancer Trends and Screening
Enlarge Image
PSA testing began in 1986 and peaked in 1992. Reflecting changes in PSA testing rates, overall prostate cancer incidence rates rose from 1988 through 1992 but distant-stage prostate cancer rates declined between 1991 and 1994. In 2008, the US Preventive Services Task Force (USPSTF) recommended an "I" rating (insufficient evidence) for PSA-based prostate cancer screening for men younger than age 75 years, and a "D" rating (recommendation against screening) for men over 75. Subsequently, PSA testing rates declined after 2008. In 2012 the USPSTF changed their recommendation to a "D" rating regardless of age, and PSA testing rates continued to decrease. Between 2008 and 2014, the rate of distant-stage disease increased. In May of 2017, the recommendation changed to a "C" rating (decision to be screened should be an individual one) for men between the ages of 55 and 69. This may again result in changes in PSA testing as well as the rate of distant-stage prostate cancer.
Findings from this report alone may inform, but are not comprehensive enough to support by themselves, changes in screening policies.
* References